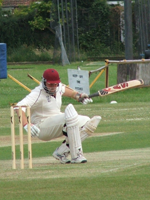 A slightly worn New York Mets baseball cap is pulled over Saugat Sen's head as he rambles on about the current baseball season.
Jose Reyes is finally healthy and the Mets have a brand new franchise outfielder and an ace in Pedro Martinez, he says. Sen, 22, who moved permanently to the United States at age 14, has no trouble with first baseman Doug Mientkiewicz's last name, a dangerous surname for any broadcaster on ESPN's Baseball Tonight.
But while the rainy month of April marks not only the smell of fresh-cut grass and the start of baseball season, it is also the start of another sport for Sen, a senior Computer Engineering major at Syracuse University.
"It's right around the time we start to play cricket," Sen says.
Like soccer, the sport is wildly popular in many countries outside of the United States, including England, Canada, Australia, South Africa, Hong Kong, the West Indies, and Sen's native country of India.
When attempting to explain the rules of cricket to other students who pass by, Sen is normally met with blank stares and indifference, despite the fact that baseball has its roots in cricket.
"Some are stubborn, others just don't care," Sen says. "Americans just don't want to understand some of the rules that are different from baseball. For example, once you are out you are out of the game and that a 'home run' would count for six runs in cricket."
Struggling for Popularity
So why has cricket – a sport that has been around since the 1300s – had difficulty finding its way into the American mainstream?
Vishesh Sharma, a spokesman for the Worldwide Cricket Club, thinks he knows at least some of the reasons.
One of the most compelling rivalries in the United States has been between baseball's Boston Red Sox and New York Yankees. The rivalries have been fueled partly by close games, and in part by on the field fisticuffs and off the field banter.
None of that is found in cricket, a self-described "Gentlemen's game."
"People are used to looking at fights in American sports," Sharma says. "This game is about enjoying the game."
The differences in culture also play a role.
"Most of the sports played in the U.S. are three to four hours max," says Sharma, whose organization promotes the growth of cricket in the United States. "Sometimes, we play six hours for five consecutive days. People just don't have the time to watch for a whole day. It's a difference in society."
To account for the difference, Sharma suggested a reformed style of play, which would shorten games to a day at a time, with a three or four hour time limit.
"Maybe a shorter version could work here," he says.
 Development of a Professional League
According to others, cricket in its original form could be a viable American sport that could catch up to soccer.
Last year, a professional cricket league called "Pro Cricket" was launched in American with eight teams, including two in the tri-state area, where the majority of the American cricket following resides.
"New York probably has the most cricketers in the U.S.," says Dean Mustaphalli, assistant director of marketing for the New York Cricket Region Inc., another organization with the goal of developing cricket. "It's the gateway of immigration. Right now, the sport is mostly played by ex-pats from England, from Australia, India and Pakistan. They make their way here, so we have a lot more cricketers here."
But the Pro Cricket league has struggled to develop a fan base because there are several semi-pro cricket leagues peppered throughout the United States.
If those resources were combined, cricket could become wildly popular.
"Just in New York, we have 8 leagues, and close to 250 teams," Mustaphalli says. "Each team has a following of 100 people. You can do the math."
Fragmentation isn't the only problem.
Even if the fan bases of the cricket leagues were combined, the best cricket stadium in New York could only house 10,000 people.
"You really need high-end facilities if you're going to get a larger crowd," Mustaphalli says. "If we have a full-fledged stadium, we can fill it with 50,000 people."
More cricket fields would go a long way to help the professional league, because it would then make a minor league system viable, something that greatly helped Major League Baseball.
"If we're given the rights to develop them, this can move at a much faster pace," Mustaphalli says. "If we could get five first-class fields, it would help a lot."
Youth Movement
While facilities will play an important role in the future of cricket in the United States, Linden Fraser – a former professional player for Guyana – has developed the sport on a more grass roots level.
Fraser arrived in America in 1991 and found that most of the people playing the game were in their 30s or 40s. Since that time, Fraser has been introducing the game to schools and trying to involve younger players in the game.
"We're competing with sports like basketball and baseball," Fraser said. "But more and more kids are interested in it."
So much so, that Fraser has started the under 15, 19 and 25 USA National Teams, and will try to coach an American squad in the 2007 Cricket World Cup.
The United States has never been represented in that competition before, but has been positive about America's chances.
"I don't see any reason why the U.S. can't qualify," Fraser says. "We're good enough, and the young players that we have are developing."
A good showing in the World Cup would go a long way to help the viability of a more ambitious professional cricket league with more venues, players and, perhaps most importantly, sponsors.
"If the World Cup team does well," Sharma says, "it will definitely prove to some sponsors that there is a market for it, and it's worth their investment."
The Next Generation
Like many people his age, Sen hasn't thought about having children yet, but when presented with a hypothetical of whether he'd teach his kids baseball or cricket, the answer requires little thought.
"Baseball," Sen says. "I don't know where they would get a chance to play or watch cricket here."
But if people like Mustaphalli and Fraser have their ways, the next generation of Americans might have an opportunity to see cricket all of the time. Should cricket get to the level that soccer is now, Sen might have a change of heart.
"Yeah, I definitely would teach them if that happened," Sen says. "It's a really fun game."
This article originally ran in the May 2005 edition of The Blueprint.