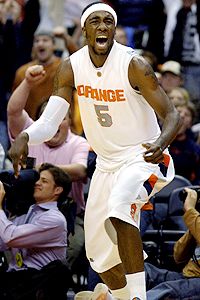 In a move that came as no surprise, freshman forward Donte Greene declared himself eligible for the NBA draft last Wednesday, forgoing his final three years at Syracuse.
Greene can still remove his name by June 16th as long as he doesn't hire an agent.
"After discussing my future plans with my family and Coach Boeheim today, I've decided to declare for the NBA draft. The Syracuse coaching staff is going to gather information on my behalf and help begin that process," Greene said.
No one doubts Greene's enormous potential. The forward became the first freshman since Carmelo Anthony to lead Syracuse in scoring at 17.7 points per game. Greene's 6-foot-11 frame and his NBA range will certainly land him in the mid-to-late first round of the NBA draft in June.
But Greene disappeared in critical games and the most crucial moments. It was Jonny Flynn, not Greene, who launched the game's final shot in a 64-62 overtime loss against the Georgetown Hoyas on Jan. 21. It was Paul Harris who lost the ball underneath the Syracuse basket in a devastating 82-77 loss against Pitt on March 1. If anything, Greene developed a reputation for shying away from the ball when the team needed it most.
On top of this, Greene also lacked the ability to score inside during Big East play, frequently settling for a long jumper. As a result, Greene shot just 42 percent from the field, and amassed an unsightly 91 turnovers. Defense was also a glaring weakness, as the Baltimore product was frequently outrebound despite his taller frame. Greene averaged 7.2 rebounds, compared to the 8.2 rebounds of Paul Harris, who is listed at 6-foot-5, a full six inches shorter than Greene.
Should Greene hire an agent and finalize his trip to the NBA, he will be projected as a mid-to-late first round pick according to NBADraft.net. Greene's situation would be similar to that of Wilson Chandler, who currently plays for the Knicks. After an outstanding freshman year, Chandler decided to jump to the NBA, and spent much of the season languishing on the Knicks bunch after being selected in the late first round.
Greene would likely be in for a similar situation. Currently, NBADraft.net has Greene being selected with the 15th pick to the Phoenix Suns, a team that already features Amare Stoudemire, Shaquille O'Neal, Grant Hill and Boris Diaw. Greene would struggle to crack a rotation so rich in proven NBA veterans much in the same way Chandler had to compete with Knicks forwards Zach Randolph, David Lee, Jared Jefferies and Renaldo Balkman for play time.
In contrast, should Greene return to Syracuse, he would play key minutes (as he did all of last season) on a stacked team with championship aspirations. The Orange would be returning Eric Devendorf, who was averaging 17.0 points per game before suffering a season ending knee injury. Also returning would be sharpshooter Andy Rautins, who sat out the entire 2007-08 season with a torn anterior cruciate ligament. Both are experienced veterans who would take pressure off Greene to score, and would help space the floor.
On top of that, because of injuries to key players, Syracuse was forced to play their entire incoming class with the exception of Sean Williams, who redshirted. The class included JUCO transfer Kristof Ongeneat, who started the final 15 games of the season, Rick Jackson, who developed into the team's best interior post defender, Scoop Jardine, who for some time was Devendorf's replacement in the starting lineup, and Flynn, who was named Big East co-rookie of the year.
Add that to the continuing development of Paul Harris and Arinze Onuaku, who both became consistent contributors to the Syracuse attack. Syracuse will also bring in another talented recruiting class, consisting of wings Mookie Jones, Kris Joseph and James Southerland. Combined with the return of Greene, it would catapult Syracuse to the top of the Big East, and almost guarantee them a trip to the NCAA tournament, where the Orange has not played since the 2005-06 season.
The other reason for Greene to stay would be to improve his draft status, merely by avoiding the competition. The incoming freshman class lacks can't-miss prospects such as Kansas State's Michael Beasley, UCLA's Kevin Love or Memphis' Derrick Rose. There is not nearly as much hype around this year's No. 1 recruit, Greg Monroe, who will be headed to Georgetown.
It would be the best move for Greene to return to Syracuse, but with a multi-million dollar contract being waived at him, it would be difficult to pass up.
Still, if he did, it would be a huge mistake on his part.
This article originally appeared in the May 2008 edition of The Juice.