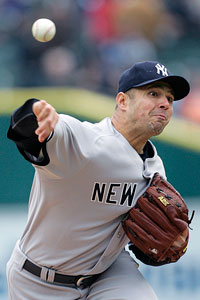 If you found your way into the Yankees' clubhouse last year, inevitably, you'd end up near pitcher David Wells. It was hard to miss the round, loud-mouth pitcher whose locker stood in the middle of Legends Field Yankee Clubhouse.
Wells is gone, and his locker and number (33) now belong to Javier Vazquez. For many in the Yankees' upper management, they are glad that is where the comparisons end. Vazquez, unlike Wells, works without fanfare, stays away from controversy and weighs 50 pounds less than the man he was brought in to replace.
Vazquez is one of the Yankees' three new faces in the starting rotation, replacing Wells, Andy Pettitte, Roger Clemens and Jeff Weaver, who combined for 130 starts and 60 wins. While the new trio of Vazquez, Kevin Brown and Jon Lieber brought impressive resumes, there was no guarantee that they could pick up where the four had left off.
For Brown and Lieber, age and health was a huge concern. Brown, 39, had made 10 stops to the disabled list in his career, and had major surgery on his right elbow in 2001. The 39-year-old pitched just 63.2 innings in 2002, only 115.2 the year before. Meanwhile, Lieber, 33, missed all of 2003, recovering from "Tommy John" surgery.
But while management was worried about health, there was never any question about experience. Both were proven talents in big-city situations. Brown had come over from Los Angeles, and even if fans came late and left early, 40,000 people at one time or another came to Dodger Stadium. Lieber had spent four years in Chicago and in 2001 collected a 20-win season.
Vazquez was the complete opposite. At 27, he had never seen the disabled list and logged 200 plus innings in each of his last four seasons. Plus, Vazquez was coming off his best year, picking up 13 wins while allowing a career best 3.24 runs per game. "He's that kind of pitcher – he's an ace," outfielder Gary Sheffield said. "He gave Montreal credibility for so long. He's like Pedro [Martinez]."
But the one looming question on Vazquez was whether he could perform under the white-hot pressure of New York. After all, Vazquez, who pitched for the Montreal Expos for his entire seven-year Major League career, had remained away from the spotlight, under the radar and out of conversation. Before this year, Vazquez was nothing more than an answer to a trivia question to Yankee fans (he was the opposing pitcher when David Cone threw his perfect game in 1999).
Valid point, considering just two years ago, Weaver had self-destructed in New York after a promising start in Detroit.
Weaver, like Vazquez, pitched in obscurity as a Tiger and compiled an impressive resume, holding opponents to a paltry 3.18 runs in 17 starts before being shipped off to New York in 2002. Weaver fizzled in New York, losing his spot in the starting rotation after his ERA ballooned to 5.99 in 2003. Some feared the same would happen with Vazquez.
"There was a lot of talk about that," catcher John Flaherty said. "But it doesn't matter where you play, it matters the makeup that you have."
Fortunately for New York, Vazquez has the makeup of a winner.
Like closer Mariano Rivera, Vazquez goes about his job with a calm, focused demeanor rarely showing emotion. During an afternoon game against the Baltimore Orioles on June 3, Vazquez faced a no-out bases-loaded situation in the fourth inning. The righty plunked Orioles catcher Javy Lopez to force in the go-ahead run.
Instead of collapsing under pressure, Vazquez responded by retiring B.J. Surhoff on a weak infield popup, striking out Luis Matos and then forced Larry Bigbie into a fielders' choice. Vazquez went on to sit down nine of the next 10 batters he faced and helped the Yankees to a 5-2 win.
"When I'm in a jam, I try to concentrate on the hitter, not on the man I have on the bases," Vazquez said. "Bases loaded, no outs, and they only score one run. That's huge for the whole team. I felt like I was making good pitches."
Vazquez is referring to any one of his five pitches – cut fastball, sinking fastball, changeup, slider and curve. When Vazquez is on his game, his versatility is his greatest asset.
"He can be a power guy one night and he could be a finesse pitcher the next start," Flaherty said. "He reminds you of [Mike] Mussina in that he can throw any pitch anytime for a strike. He doesn't have one dominant pitch, but the combination of four or five pitches that he can throw anytime in the count makes the whole package dominant."
Vazquez has been exactly that, mowing down batters with surgeon-like precision, holding lefties to a .203 batting average and righties to a .220. Vazquez, who signed a $45 million four-year contact, after being traded for Nick Johnson, Juan Rivera and Randy Choate in December, has established himself as New York's most consistent starter, and earned high praise from manager Joe Torre.
"I don't worry about him," Torre said. "I trust him a great deal."
But for such an important player, Vazquez has barely made a scratch on the back page. When the Yankees made the move for Vazquez, the trade got lost in the rumors about Alex Rodriguez and the acquisitions of Sheffield, Brown and Kenny Lofton.
Still, the attention, or lack thereof, suits Vazquez's personality.
"You almost wouldn't know he's here in between starts," Flaherty said. "He quietly goes about his work."
Quietly, but quickly, Vazquez turned all doubters into believers. He's proven that he not only can survive in New York, but thrive outside the friendly, albeit empty, confines of Olympic Stadium.
"There are a lot more people in the stands in New York," Vazquez said. "But when I pitch, it doesn't matter how many people there are. I'm always giving it 100 percent. The media always had it 'Can you do it or not?' but I knew I could do it. I knew all along I could do it."
This article appeared in the August 2004 issue of the New York Sportscene.