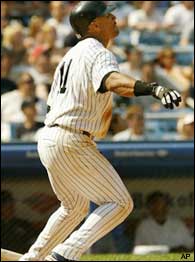 Gary Sheffield is the latest name in a line of superstars who had struggled initially in a Yankees uniform before returning to form.
Jason Giambi hovered around the Mendoza line in 2002, his first year with the Yankees until mid-May when he picked his hitting up and finished with MVP numbers. Alex Rodriguez, the reigning American League MVP, had hit just .203 in his first 15 games this year. He's gotten back on track and at the All-Star break the third baseman posted 58 RBI and 22 home runs.
Even with this trend, it was surprising when Sheffield was hitting just .265 with three home runs midway through May. After all, this was a player who finished third in MVP voting in the National League last year, after hitting .330 with 39 home runs and 132 batted in. This was a player who hit 177 home runs in the last five years. This was a player who had played in Los Angeles for more than three years, a comparable market to New York.
"Coming to a place like New York, everyone is trying to impress. I was trying – it's natural," Rodriguez said. "You've got to remember Sheff's making a big adjustment coming to this league. I don't care who you are, there is an adjustment, and you put New York on top of that."
Playing in the pressure of New York could've been one reason for Sheffield's slow start, but there were other reasons as well.
Sheffield has been playing with bursitis in his left shoulder, an injury so painful, family members have begged him to have surgery. But Sheffield, fearing that surgery would shelve him for the remainder of the season, has opted to play through the pain.
Away from the field, Sheffield has been linked to Balco, the Bay Area Laboratory Co-Operative, which has been under investigation because it is alleged that it has supplied several athletes with steroids. Sheffield, along with several other athletes, testified before a federal grand jury.
Then there was the bitter breakup between Sheffield and his former agent, Scott Boras. Sheffield fired Boras at the start of the 2003 season. Boras filed a lawsuit against Sheffield, who in turn filed a countersuit. But the biggest reason for his early struggles, according to Sheffield, was a shift in philosophy.
"I am the type of player who wants to please people with my play on the field," Sheffield said. "If you say you want home runs, I'm going to try to give it to you. Basically, I just got away from my game plan."
It was manager Joe Torre that got Sheffield back on it.
"Mr. Torre said, 'they won World Series here (without) a player hitting 40 home runs,'" Sheffield said. "I know they like them here, and I was trying to please people, trying to do too much."
Torre's message was to simplify. If Sheffield concentrated on driving in runners in scoring position, the power would come back eventually.
"That's what I have been focusing on," Sheffield said. It's worked.
Before the All-Star break, Sheffield had reached safely in his last nine games and raised his average to .302 with 59 RBI and 16 home runs.
The last of those 16 home runs was an indicator that Sheffield had not only left his struggles behind, but that he had completely regained his power.
With the Yankees leading 9-3 in the eighth inning on July 11, Devil Rays reliever Danny Baez hurled a fastball high and inside. The next thing Sheffield knew, he found himself sitting in the batter's box at Yankee Stadium, checking to see if his head was still attached to his body.
"'Why did he do that? Was he trying to hit me?'" Sheffield thought to himself. "There's nothing between us. We don't have no history."
Sheffield rose to his feet and responded the only way he knew how to – by crushing a pitch to deep right field, giving the Yankees their final run in a 10-3 laugher.
"You can't back away," Sheffield said. "When they come inside like that, I move closer."
Sheffield has seen more than his fair share of tight pitches as his hitting has improved. He was brushed off the plate twice on July 1, when Boston ace Pedro Martinez plunked him with a fastball in the first inning and Curtis Leskanic in the 12th inning. None of it has fazed Sheffield.
"He can't be intimidated," manager Joe Torre said. "The man knows no fear."
That's not entirely true.
"I'm scared of dogs," Sheffield said. "Any dogs. It took me a year to get used to my wife's dog."
Fortunately for the Yankees, Sheffield has taken much less time to get used to playing in a Yankees uniform.
"He was confident he was going to turn things around," Rodriguez said. "Sure enough, he's become a one-man wrecking crew."
"Jim Leyland, who managed Gary in Florida, asked me yesterday, 'How do you like Sheffield?'" Torre said. "Coxie [Bobby Cox] this spring, asked the same thing, unsolicited. They loved him because he's easy to manage."
They probably also loved him because he's a stellar baseball player. "I just feel like the sky's the limit for me," Sheffield said.
With the way he's playing, Sheffield could shoot even higher than that.
This story appeared in the September 2004 issue of the New York Sportscene.